Organizational Change Management
Never in the course of business and industry has change come at such an unprecedented pace, nor will it go back.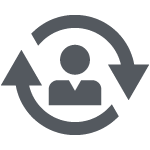 Organizational Change Management
CHANGE MANAGEMENT SERVICES INCLUDE:
Strategy & Planning
Business & Technology
Process Design
Change Impact & Analysis
Training
Communications
Testing Support
Value Mapping for ROI
Change Rx Diagnostics
The rapid pace of today's environment requires businesses to adapt to continuous change and to leverage change management disciplines into critical business initiatives.  KM3 compliments customer's business initiatives with organizational change management services.
What's Changing For You?
Business
-Transformation
-New Operating Model
-New Product or Service
-Merger & Acquisition Activity
-Organizational Alignment
-Restructuring or Divestiture
Technology
-New capability of existing technology
-New Workforce productivity tools
-Refresh Hardware
-Infrastructure & Application upgrades
-Robotics & Automation


Change Rx
-Prior project(s) that did not achieve desired outcomes
-Continual change & competing priorities
-Employees resistant to change
-Not sure how to achieve goals with new projects
-Inconsistent approach to change leadership
Our approach is grounded in technical knowledge, process engineering and people centric strategies that deliver results. We know how to translate complex business and technical concepts into results for our customers.
The rapid pace of today's business environment requires companies to 'shape, shift, and share' their operational and strategic development across the enterprise to drive innovation and success.  Businesses must learn to adapt to continuous change and integrate change management disciplines to capture value from transformation efforts.
Our team is highly experienced in implementing business systems which allows us to understand from the ground up and top down how all people groups are impacted.  We couple the hands-on implementation experience with our PROSCI change management certification to bring to our clients the right blend of best practices and practical realities for what will work best in their environment.
User Enablement services include planning, strategy and execution for all components of the change journey from organizational alignment and visioning to training and communications.