Right-sized rigor grounded in judicious, fundamental practices.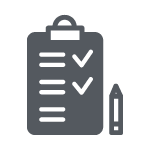 Project
Management
PROJECT MANAGEMENT SERVICES INCLUDE:
Project Set Up and Planning
Execution
Project Governance and Oversight
ROI Mapping
Change Management Integration
Today, companies are required to think fast and stay nimble. Business initiatives intertwine advanced technologies and competitive pressures with benefits realization highly dependent on the workforce's ability to conform, cooperate, and contribute.
KM3 Consulting Group offers project management and project support services to help customers tackle these business initiative complexities. Our diverse workforce is comprised of experts, who share the common skillset in solving complex problems with a pragmatic approach that maximizes our customers' Return on Investment. Strong technical aptitude, seasoned project management, and ROI/value mapping are fundamentally incorporated in our project delivery approach.
AUTOMATION &
TRANSFORMATION
STRATEGY
Technology is outpacing human capital. When looking closely, automation initiatives are often an organization's effort to future-proof their company. As labor becomes scarce for certain job categories, organizations will need to rely on automation technologies. The need to up-skill the workforce is imperative for the implementation and on-going sustainability of these efforts.
A major hurdle in most transformation efforts is developing the strategy to move the people and processes from current operations to the end state. The latest buzz words and market success stories inspire ambitious transformation strategies. Ambitious strategies are attainable but only if the workforce transition components are prescriptively integrated.
We take a holistic approach to strategic planning while developing execution roadmaps that are grounded in practical realities. Our teams operate with an understanding of the complex mesh of industry, policy, workflow, culture, and technology that support effective execution. We tackle challenging topics head on and have the experience to back up our approach and recommendations.