Prolonged periods of unpredictability and uncertainty often serve as a catalyst for experimentation and innovation.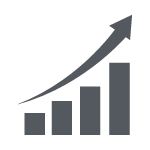 Return
On
Investment
RETURN ON INVESTMENT SERVICES INCLUDE:
Value Mapping for Implementation Projects  
Business Solution Design and Implementation Planning 
Business and Technology Process Development 
Change Management and Project Management
While companies race to experiment, prototype, and learn amid uncertain conditions, the fundamental question of ROI is constant and unchanging.  Where should time, talents, technology, and finances be invested to produce the greatest return of value?
It is common to find business initiatives lacking the value mapping required to develop a strategy that moves people and processes from current operations to an end state producing the greatest return.  Latest buzz words and sample success stories inspire ambitious implementations.  Ambitious implementations are attainable but only if the ROI components are tightly woven into implementation plans.
We help customers implement business initiatives by incorporating their vision and goals into solutions designed to generate the greatest value in their environment.  Our teams operate with an understanding of the complex mesh of industry, policy, value, culture, and technology that support effective execution.  We tackle challenges head on and have the experience to back up our approach and recommendations. 
Accelerate
VALUE
from your Kronos
INVESTMENT
As a Consulting Advisor partner of Kronos, Inc. we leverage our industry and organizational change management expertise to help customers accelerate value from their Kronos investment. Return on Investment (ROI) from Kronos is highly dependent upon how users are interacting with the system and the daily behaviors embedded within a company's policies and culture.
Starting with detailed business objectives, we use a methodological approach to mapping individual job roles and daily system behaviors directly to achievement of the business goals and metrics. This approach to mapping role-based value capture allows customers to prescriptively target improvement areas for collective groups of employees/job functions all the way to individual contributors.
Additionally, we offer Readiness assessments in advance of an upgrade or implementation that allow our teams to develop a value roadmap for customers to leverage as they begin a new Kronos initiative.